It's All About How Easy Any Wind Turbine Begins Producing Power
According to the National Wind Technology Center, more than 80 percent of the U.S. residential areas experience winds less than 10 mph (16 km/h), 90 percent of the time. Standard VAWT's and HAWT's require a minimum of 7.5 mph (12 km/h) to begin producing energy. The Honeywell Wind Turbine's breakthrough technology can produce energy in as little wind as 2 mph (3 km/h) and can perform in wind speeds up to 42 mph (67.5 km/h), allowing consumers who experience low wind speeds to seriously consider wind as an energy source.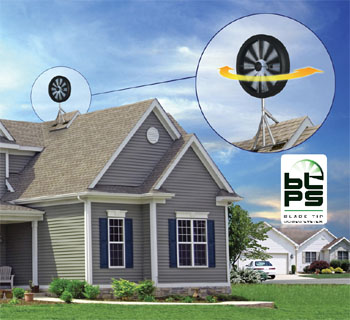 The Honeywell Wind Turbine's Power Blade System creates energy at the blade tips, rather than through a central gear and rotor used in most turbine technology. By eliminating the resistance of a central gear and shaft, significant efficiencies are gained in cost and energy output. The Honeywell Wind Turbine is less expensive to own and operate while generating energy across a broader range of wind speeds (wind classes).
Lowest Cost kWh Installed Wind Turbine in Class
Produces 2752 kWh Annually in Class 4 Wind
Starts Producing Energy at 2 mph
120° Wind Acceptance Angle with auto positioning
Off Grid or Grid-tied
A study by British researchers concluded that urban wind turbines haven't been living up to their promised output. EarthTronics is banking on Honeywell's ability to harness energy from low-speed winds which, for this particular turbine, can be as slow as 2 miles per hour. Still, the 2 kilowatt turbine would best work if it's attached somewhere with enough altitude to avoid the usual wind blocking structures such as huge trees and other houses. If its full potential is realized, it could produce 2,000 kilowatts of energy per year, according to Brian Levine, EarthTronics' vice president of business development.
If you live in an area with extreme weather, you may be concerned about the turbine standing up to strong winds. The turbine has been tested to operate in wind gusts up to 90mph, and it is made primarily from UV-resistant nylon and anodized aluminum in order to withstand the elements. Kevin told me about how they have tested the turbines in wind tunnels and also outside in a Wisconsin winter, which can drop many feet of snow. He also explained how there is a sensing control, called the Smart Box, inside the turbine that turns on a braking system when the blades are going too fast. The 6ft diameter unit can be mounted to a pole, or directly to the roof by a professional installer. The total weight is only 170lbs, so it should not pose structural concerns.
Specifications
Honeywell Gearless Wind Turbine
Blade Tip Power System (BTPS)
BTPS Permanent Magnet Electric Generator, Patents Pending
ETL, UL, CSA, CE, EU Listed (Summer 2010)
Installs on Pole, Roof Mount or Commercial Mount
Lowest Cost kWh Installed Technology in Class
Enclosed Blade Tip Power System
Wide Wind Acceptance Angle
Acoustic Noise Emissions < 35dB
Tip to Tip Blade Dimension 5.7' (170 cm)
170 lbs ( 77.2 kg)
120 AC 60 Hz
220 AC 50 Hz
2.2 KW Plate Power
< 2 mph (3 km/h) Cut in Speed, Shut down 42 mph (67.5 km/h)
Renewable Electric Generation 2752 kWh/yr - Class 4 Winds
(D.O.E. average US household electric 11,000 kWh/yr)
Smart Box Control System includes:

Optimal Power Transfer Controller
True Sine Wave Inverter
Battery Power Management System
Wind Direction & Speed Measurement Control System
Standard RS485 Communication Port

5 Year Limited Warranty
Annual CO2 Displacement 2.2 Tons
Product Design Life 20 Years
The turbine's installed cost is approximately 1/2 of the cost of traditional turbines with a lower installed cost per kWh (in class and size) than any turbine on the market. Adding to the value are federal and state rebates covering anywhere from 30% to 100% of the overall cost.
The Honeywell Wind Turbine comes complete with a computerized smart box, inverter and inter connect switch to wire the system into a household panel. The Honeywell Wind Turbine is designed to be installed where the power is being consumed and can produce 2752 kWh/yr in class 4 winds at 33' (height of 33'). The system has a MSRP of $6,495.
The Honeywell Wind Turbine from WindTronics measures just 6 feet (182 cm) in diameter and weighs 170 lbs (77kg) providing 18 % of an average household's (DOE) energy needs.
The Honeywell Wind Turbine patented design maximizes efficiency drawing energy from the fast moving blade tips rather than a complex slow center hub. The Blade Tip Power System cuts-in with wind speeds as low as 2 MPH (3km/h), generating energy at a third the cost per kWh of any other Wind turbine (in class and size).